The first house I bought was my grandmothers.  I was 18, newly married and was already tired of living in apartments. My then husband and I purchased my dad's family home in a run-down area of Tacoma Washington. Not really the best neighborhood but we were happy apartment living was behind us.
The house came with worn out kitchen linoleum, bulging walls, drafty single pane windows, pink flowered wall to wall wool carpeting and a multitude of memories from my childhood. I loved it. I loved the charm, the history, but most of all I loved the possibilities the house gave us. The future it offered. It wasn't perfect but we were going to make it in to a home.
We began to remodel. We didn't have any experience in remodeling but that didn't matter. Since the house only had one bathroom with a claw foot tub, that's where we started. We needed a shower. My inexperienced husband remodeled the bathroom  with ease. We were so proud of it. Kept the old charm but updated the fixtures, rearranged, painted…it was lovely. Now on to the next room. We looked at the kitchen and decided that it was too expensive to do at this time. Needed it desperately but we just didn't have the funds.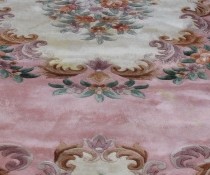 The living room was next. The house was a small two bedroom, one bath house. When you walked in the front door, the first thing you saw was a PINK FLOWERED wall to wall carpet. Yes, pink. My grandmother loved pink and it showed in her decorating. I remember the walls used to be pink as well. But my family had renters for years that tenderly repainted every wall reducing the pink impact substantially. However the wall to wall pink flowered carpet was still there. Probably installed in the late 50's, early 60's, it was now the late 70's and it had to go. Not because it was worn out. It wasn't at all! After decades of renters with kids and pets the carpet was perfect. Thick with vibrant colors. It still looked new. Damn! I needed a reason to remove the carpet. How can we justify getting rid of this, when it still looks new? I had no idea.  I don't think I had ever gotten rid of something so big just because I didn't like it. It seemed so wasteful. I look back now and think I could have sold it but at the time, I didn't think anyone else would want it. Remember I was 18.
So we decided to keep the pink flowered wall to wall carpet for now and if we wanted to later, we would replace it. We had to replace it. It was pink and it was the 70's when decorating was browns, oranges and greens. Pink just wasn't going to work.  I figured a couple years of living with two large dogs maybe it would be toast soon. So we set about remodeling the rest of the house. After a couple years of "intentional rug abuse" it was clear this thing wasn't going anywhere. We spilled food, drinks, scraped furniture over it, dog throw up, dog pee…the works! Nothing ruined it. Spills would wipe up, messes would clean up. It would vacuum and clean up like it was new again. Didn't stain, didn't wear out. This rug was here to stay. I still hear my dad saying "It's WOOL, why would you want to get rid of it?" I didn't know what that meant.
So with the best of intentions we pulled out my grandmothers old pink rug and had new wall to wall carpeting installed. Clearly this new carpet wasn't the quality of my grandmother's pink flowered wool rug. You could instantly tell. The feel was cheap. But you know what? The color wasn't pink. It was browns and warm rusts. By 70's standards, it was awesome. But I never did forget my grandmother's pink rug and how it lasted through decades of renters and my "intentional rug abuse".
Today, my house is filled with wool rugs. But not wall to wall. I have wool area rugs to create blasts of color that can easily be changed out and rotated in seasonally.  The "rug abuse" continues with pets and general life but this time it's not intentional and I know my rugs can take it.
Why wool rugs?
Wool lasts forever – or maybe just seems like it
Wears like iron, it's super strong – perfect for high traffic areas
Can be dyed in the most amazing vibrant colors (pink aside)
Wool is naturally fire resistant and spill resistant (and dog mess resistant)
Wool naturally resists soil so don't worry about purchasing a lighter color, even white
Wool is a natural fiber so you know what you're getting
The only downside I can see with buying a wool rug is that you will own it for a long, long time so get a color you can live with. Or, get several that you can rotate around your house. Because wool rugs are an investment. But they're a wonderful investment that will last decades.
Looking for a wool rug? We carry a wide variety of 100% wool rugs in a bevy of vibrant colors and any size you'd like from designer shearlings to long wool or short wool.